MAGICAL NIGHTS IN NORWAY'S FIRST TREETOP HUTS!
SEVEN UNIQUE TREETOP HUTS -
FOUR SEASONS IN THE FOREST
A warm welcome to our rustic, charming and comfortable huts. A place to enjoy silence and dark nights, eight meters up in the treetops.
The huts are equipped with all you need for a comfortable and adventurous stay in the trees - in the middle of the forest - all year around!
All huts are fully winter insulated, with a fireplace, shower, bio toilet, kitchen area with stove and refrigerator, and a terrace with a campfire tripod. Firewood and bird seeds are included.
All the seven treetop huts have their distinctive architecture, they are different and unique. Sleeping for up to 8 people in each hut, including a loft where you can enjoy the views.
ALL YEAR AROUND SURROUNDED BY NATURE
All the huts have terraces with an airy view. Enjoy the heat from a bonfire, and be entertained by birds and squirrels out on the terrace - only an arms length away. Some will eat directly from your hand!
From three of our huts you can see the Black Grouse mating dance.
Canoes are put out to your disposal at the small ponds underneath the huts.


There are hundreds of kilometers of nice forest roads with little traffic - well suited for biking and long walks. Mountain bikes can be rented from us.
An adventure trail, berry picking, climbing and fishing/ice fishing is to be found close to the huts as well.
We offer to deliver breakfast and dinner based on local products to all huts.
WHITE WINTERS COME EARLY
From several of the huts you can put on your skis and go directly onto the groomed trails. Kicksleds and snowshoes are at the huts and free to use.
We offer dog sledding and horse sleigh rides.
From the autumn holidays to the winter holidays, we start a fire in the fireplace and light candles and lanterns both inside and outside the hut before your arrival. This makes a great atmosphere and looks magical!


PET
It's allowed with dogs in most of the Treetop huts.


SUSTAINABILITY
The treetop huts are borrowing the trees from nature. We use local manufacturers and partners, and reuse materials and other products as much as possible.


PRICES
From 1999,- to 4999,- NOK hut/day.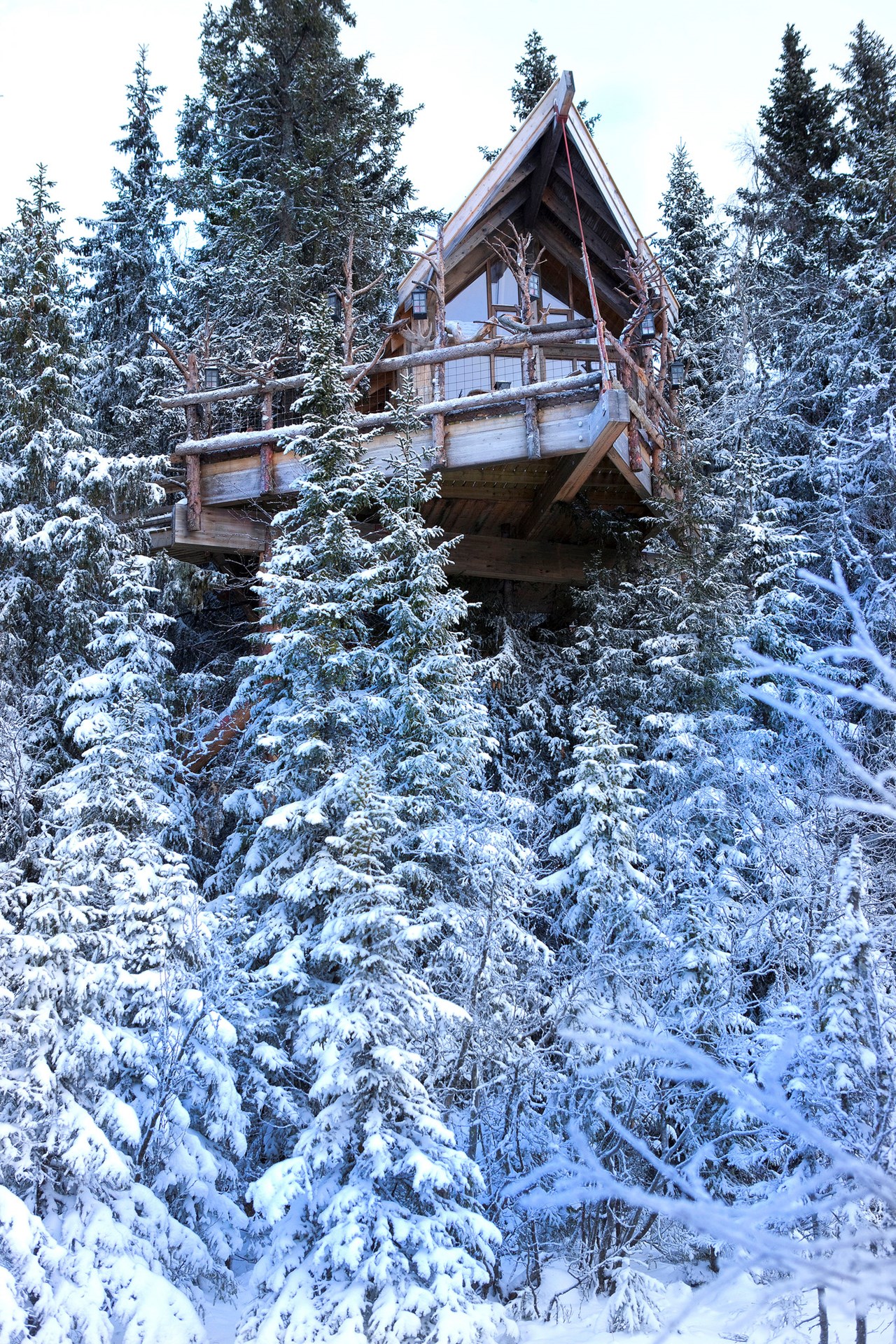 Sign up for our newsletter and information and offers.